Restaurants
Restaurants
Enjoy the best food at our newly renovated hospitality square: 't Erf van Ruwinkel. Between the 1671 farm and the old cow sheds, you will find no less than four different eateries, each with their own specialty.
BREAD & BREAKFAST
For a great start of your day, come and have breakfast at our Bread & Breakfast. Here, we serve various delicacies from the Gelderse Vallei, such as tasty farmhouse cheese and bread from our favorite baker in Scherpenzeel: Bakker Frentz. The bakery has been around for 102 years as of 2023! Our delicious apple pie also comes from them! In addition to breakfast, we also serve a variety of tasty lunch dishes, so there are plenty of reasons to visit us during your stay.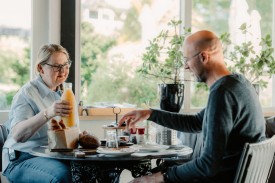 Our cozy Bread & Breakfast overlooks the tennis court and the hospitality square and is located in the central building where the reception and swimming pool are also located.
BOOK YOUR STAY AT LANDGOED RUWINKEL HERE!
PANCAKE RESTAURANT GRIETJE
Located in the so-called "deel" of the centuries-old Klein Ruwinkel farm is the Pancake restaurant Grietje. What is more Dutch than the ancient pancake? From a basic pancake or apple pancake to the famous bacon pancake: the choice is huge! Children can decorate their own pancake. The pancake farmhouse makes the thickest pancakes!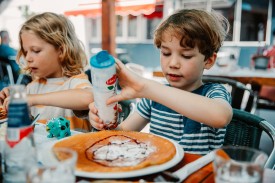 BOOK YOUR STAY AT LANDGOED RUWINKEL HERE!
JUFFROUW TOK SCHERPENZEEL
Under the inspiring leadership of chef Felipe Palmero, you are welcome to come and enjoy the tastiest Chicken Piri Piri or one of the other fine dishes at this cozy family restaurant.
Juffrouw Tok is a super cozy family restaurant where everyone feels at ease. The specialty is Chicken Piri Piri, marinated and prepared on the charcoal grill, giving the dish its unique flavor. Prefer something other than chicken? No problem, as the menu offers other tasty dishes and even a vegetarian option.
Children will love to feast at Juffrouw Tok. In addition to the special children's menu from which they can choose their favorite dish, there are also coloring pages with crayons and/or markers available for them to color. We also have a children's corner for watching cartoons.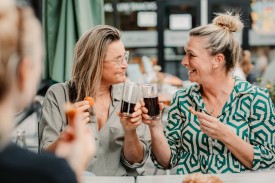 FRITERIE
The friterie at Landgoed Ruwinkel. In the friterie, you can either take away or eat delicious quality snacks that are locally produced and delivered to us by Boerenhart!
BOOK YOUR STAY AT LANDGOED RUWINKEL HERE!
Restaurants in the vicinity of Landgoed Ruwinkel In the immediate vicinity of the park, you can find several nice restaurants, including our own favorites such as:
💚 Pizza's and more at grillroom Sphinx in Scherpenzeel
💚 Restaurant de Kromme Hoek, a local favorite located in the middle of the town of Scherpenzeel. Reservations are highly recommended.
💚 If you want to immerse yourself in country and western atmosphere, then you should visit Ribhouse Texas in Woudenberg. Here, you can enjoy delicious steak!
💚 New but definitely worth recommending is restaurant Chardonnay in Achterveld. Here, you can eat as much as you want.
💚 To have the tastiest sushi delivered to your bungalow, you can order from Sushi0318.
In addition, in Scherpenzeel, you can find Restaurant de Kleine Holevoet,