The lake of Henschoter
The lake of Henschoter
Not far from Landgoed Ruwinkel you can find a real magical place with white sandy beaches in the middle of the forrest and clear blue water: the Henschoter lake. This lake is very populair in the region. In the summer it is really nice to get a tan or sit in the shadow of the trees and enjoy the good life. Parking your car is easy but from our holiday resort you can do it the Dutch way and use your bike.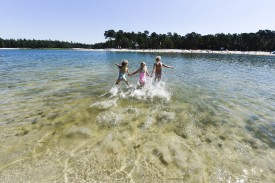 The lake is 70 hectare big, thirteen hectar consists of water. You could walk around the lake in a forest area. The nice sandy beach gradually goes down to max 2 meter 20 centimers. Because it's not that deep the surfuce freezes very easily in the winter. As you can imagine this beautiful skating ground.
Before 1895 there was a littele dessert at this spot. To protect the virtual ground in the Valley of Gelre the people put gras on this area and put some trees on it. In the early thirties the sand on this spot was used to built highway A12. In 1972 the lake is been prepared for recreatonal use.
In the middle of the lake there is an island. You can reach the island by bridge. For the kids there are some playgrounds. Click here to see this magnificent spot.