Holiday resort in the heart of Holland
Holiday resort in the heart of Holland
Located in the geographic heart of the Netherlands so the ideal spot to be close to every mayor Dutch attractions like Amsterdam, Utrecht, Efteling, The Hague. Landgoed Ruwinkel lies in the Gelderse Vallei (Gelderland valley), a magnificent area of natural beauty between the Utrechtse Heuvelrug (Utrecht ridge) and the Veluwe.
Our park is the perfect base for trips in and around the area or to discover the Netherlands. There are many historical sites close by: Amerongen Castle, Historic hous Huis Doorn and the famous medieval city of Amersfoort are all easily accessible form here. What about the combination of culture and nature? In the Kröller-Müller Museum located at the Hoge Veluwe National Park. Further attractions in the immediate surroundings, for both young and old, include the Ouwehands Zoo Rhenen, the Dolfinarium, Burgers' Zoo, Monkey Zoo Apenheul and Walibi World. With so much to see and do here we guarantee you will never be bored and you have to come back to see all!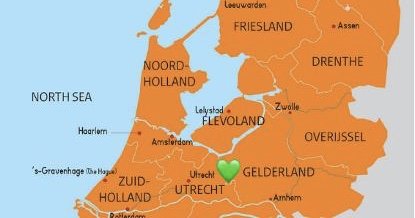 What to see?
Around the park there are many opportunities for outdoor activities and shopping. For example, you can take a stroll through the forest, or if you prefer why not hire a bike and cycle around the valley and enjoy the fresh air and sights. We also reccommend a visit to The Piramid of Austerlitz or Huize Doorn (the last home of the German King Wilhelm). Alternatively you can visit The Amersfoort animalpak, Ouwehands animal park or the Burgers Zoo. For a days shopping try the city of Veenerndaal!
Take a visit to the Henschotermeer, a beautiful freshwater lake in the middle of the forest, for a day of nothing more than sun, swmming and relaxing. The Henschotermeer has a beautiful white sand beach where you can take in some sun and go for a swim.
At the park itself there is also lots to see and do. Why not try a game of tennis or mini-golf, or join us in the swimming pool for aqua fitness. Or maybe you just want to kick back and relax in the heated pool. Larger luxury bungalows have their own private sauna.
Our mission is to ensure you return home completely relaxed and re-charged, and all for a very good price!