14x tips voor een vakantie met kids
14x tips voor een vakantie met kids
Zoveel te doen en te beleven
Facilities for Kids
So much to do and experience There's plenty to do at and around Landgoed Ruwinkel for everyone. Bring your table tennis bats (and ball) to play on our table tennis table, swim in our indoor pool, borrow one of the board games from the reception, rent a mini golf stick and play a sporty game of mini golf on our mini golf course with farm animal theme. Pet the goats in the animal meadow.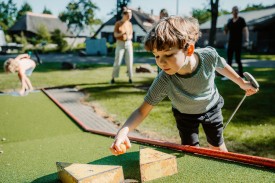 Playin outside is always good. Play together in the playground, pet the animals in the animal meadow, play a game of mini golf, or enjoy tennis on our tennis court. How cool is it to rent a mountain bike and cross the Utrechtse Heuvelrug, or rent a hip scooter? Of course, our own GPS treasure hunt is super fun. Rent one of our bright blue tractor-inspired go-karts to tour around the park. Take a nice bike ride or hike through the Gelderse Vallei with the whole family. Above all, enjoy time together and make new memories.
Kidscross
Just 2 kilometers away in Scherpenzeel is Kidscross. Are you not afraid of a little mud, challenge, speed and adrenaline? Then come and cross at Kids Cross Scherpenzeel. Kidscross is a bike park located in the green Scherpenzeel. A place full of obstacles and experiences. The bike park is aimed at boys and girls from 4 to 12 years old, at any level; there is something for everyone. It's about enthusiasm, pushing boundaries. Where there's a wheel, there's a way. Are you ready to start?
The Leughterpad near campside de Lucht, the Leughtenpad has been opened: a play forest where children can get to know the nature in their surroundings. The path is freely accessible, so also for guests of Landgoed Ruwinkel.
The path has an adventurous and educational character: you can sail a raft, walk a barefoot path, or climb an observation tower.
At the reception of camping de Lucht, a bag can be purchased which includes a booklet with assignments, a magnifying pot, and a net to discover the underwater world.
Happy Farm
Do you feel like playing for an afternoon? Then go and play together with all your friends in De Happyfarm! Who dares to slide down the slide and who races the fastest on the tractors and go-karts? Or do you prefer to pet rabbits? There's something fun for everyone! For the youngest, there's a special soft play area and the older children can climb and clamber in the monkey cage or jump on the bouncy castle. Happy farm is located in Terschuur.
Looking for indoor entertainment when it is raining? there are still plenty of fun things to do inside: how about bowling, visit a cinema, take a dip in our pool, or borrow a board game from the reception.
Landgoed Ruwinkel is located in the middle of the Netherlands, which means that there's a wide range of day trips to plan: from playgrounds and zoos to super fun museums. Experience the adventure and explore the surroundings together. Venture into nature to search for wild animals. Our tip: look especially where the forest and meadow intersect, as that's often where the wildlife is visible.